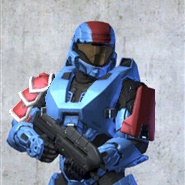 "I'm Metroid Zapper, DeProgrammer's bud and on-the-spot spriter. I try to make sprites for him when he asks. I'm not as quick as I once was, [DeProgrammer agrees] but I love to help him out. I've done some stuff for Metroid Prime 2D, but I mostly sprite for DeProgrammer and Troid92, who is an MP2D moderator and friend of mine. I'm not too shabby, if I do say so myself. I know I'm not the best, but I give it my all."

Forum profile: Metroid Prime 2D

And giving it his all is more than enough. Thanks a bunch, Metroid Zapper!